Beyond Fear East Kimberley 2017
Rally the support of your family and friends to help you raise money for The Adventurers (The Pirate Ship Foundation Limited) as you do it.

The Adventurers (The Pirate Ship Foundation Limited) works to raise funds to find better treatments, and the cure for Childhood Brain Cancer. We rely heavily on community support, and a large portion of this is from fundraising events and activities involving dedicated people like you. The possibilities are limited only by your imagination so get creative, go over the top and let everyone know that you stand for something!

Beyond Fear 2017 have set a team target of $50,000 so what we will gain from your fundraising efforts is invaluable, and for that we cannot thank you enough!
Beyond Fear in the East Kimberley - Your adventure begins when you land on the Chamberlain River a true Kimberley bush strip. Trekking through some of Western Austrlaia's most extreme, remote and rugged wilderness – Adventure Out have created this special Kimberley experience to stimulate all your senses. With limited food available – there will be a requirement to fish, hunt game and forage for your dinner!
Our remote trek adventure brings you face to face with the gruelling task of navigating remote locations and undertaking invaluable survival strategies along the way. Hone your navigation and survival skills as you make your way long the river bed – being sure to watch for the local estuarine crocodiles, before finishing with and adventure challenge at Endaba Gorge and a final night under the Kimberley stars. 9th – 17th June 2017, this adventure is led by ambassador Phil Britten.

This is an adventure that will stay with you forever..you never forget the sight of the Kimberleys stars!
Raised so Far
$0.00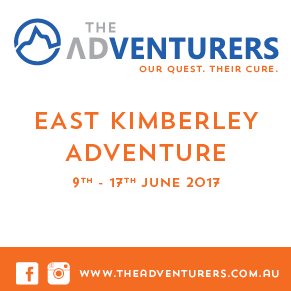 $0.00